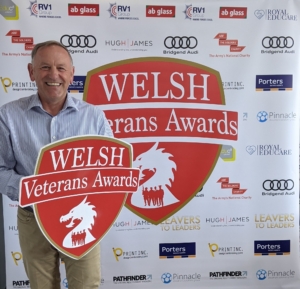 Alan Brayley, Managing Director, AB Glass; President, Swansea Bay Business Club; Deputy Lord Lieutenant for West Glamorgan.
I am the Managing Director and owner of AB Glass, an architectural aluminium and access control specialist. I am a proud previous winner of a Welsh Veterans Award and delighted to be asked to serve as a judge for these awards.
In addition to my business interests, I am also the President of Swansea Bay Business Club, representing the region's business community; a member of Manufacturing Wales; and Deputy Lieutenant of West Glamorgan supporting Louise Fleet, JP, HM Lord Lieutenant of West Glamorgan.
I have a strong affinity with the armed forces at the veterans community in this part of Wales. I served in the Royal Regiment of Wales and Royal Welsh for 20 years, finishing my military career as a Sergeant Major. Since leaving the Forces, my company has employed many ex-service personnel and helped many more in other ways. I am a big supporter of ABF The Soldiers' Charity – the national charity of the British Army.
Emma Grant, Regional Head of News Bauer Media South and South West
I am Regional Head of News for Bauer Media in South and West Wales and help organise our radio stations' Veteran Network Day each year.
Since becoming a journalist over 26 years ago I've regularly come into contact with the armed forces and veteran community. But it was a family tragedy which led to me connecting on a much deeper level. The past four years I've been fortunate enough to work with some incredible veterans and witnessed the huge difference they make in our communities. I've also campaigned on behalf of veterans through my journalism and lobbied those in power about the issues faced by those struggling with their mental health and transition to civilian life.
The Wales Veterans' Awards are an incredible way of shining a light on this cohort and I am absolutely delighted to be involved this year as part of the judging panel.
Gemma Richardson,  Marketing and Communications Manger
Gemma is the Marketing and Communications Manager of the Educ8 Group, who offer fully funded training programmes in South Wales.
"I am a former military wife; my husband having transitioned two years ago from military to civilian life, who has now remade her home in Wales. Whilst based in Germany I worked for the Army Families Federation and am thus incredibly passionate, both personally and professionally, about the welfare of our soldiers, our veterans, our military families and the impact transitioning can have.
I am then, thrilled to be a part of the judging panel for the Wales Veterans Awards, and to play a part in celebrating the fantastic contribution veterans make to the UK, post military, and of course to Wales: setting an example, and shining light, to inspire us all"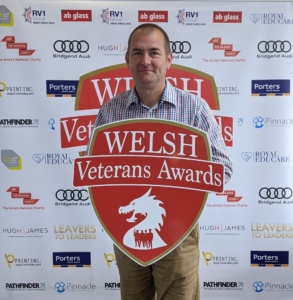 Peter Davies  – Regional Director Wales, ABF The Soldiers' Charity
His role encompasses inter alia; representing the Charity in Wales; engaging a wide range of audiences both military and civilian on the work of the Charity to encourage support to regional fundraising, continual development of our volunteer fundraising, initiating and delivery of regional fundraising events.
ABF The Soldiers' Charity is the Army's national charity and provides support to soldiers, former soldiers, and their families, for life – whatever the need is. It supports the Army family of all generations, not just those affected by recent conflict. Working in support of corps and regimental benevolent charities, The Soldiers' Charity relies heavily on community fundraisers, volunteers and benefactors to ensure that those in need get the assistance they deserve.
Peter comes from a family with a long Army tradition (fifth generation), and, as a long-serving former British soldier and a proud Welshman, he fully appreciates the work of the Welsh Veterans Awards and whose aims are very close to his heart. Peter was awarded the Meritorious Service Medal (MSM) in the 2016 Queen's Birthday Honours military list, prior to ending his 23 years regular service in the British Army finishing his time in the British Army as a Warrant Officer Class One in the Royal Logistics Corps. Married to Nicola for 25 years with two children, Keiran (25) and Charley (16).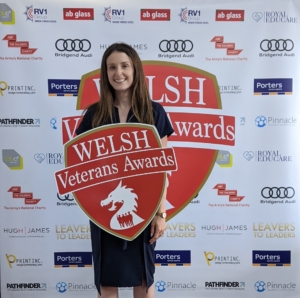 Nia-Wyn Evans  – Solicitor
I am a solicitor at Hugh James, now based at our London office. I work within the military team representing military and ex-military servicemen and women.
Whilst speaking with military and ex-military personnel on a daily basis I am all too familiar with the difficulties veterans can face when leaving service.  I wanted to join the judging panel for the Veteran Awards to celebrate those who have made a successful transition from military to civilian life, whilst also assisting veterans who have faced difficulties when returning to civilian life as part of my role as a solicitor.
I have been fortunate to sit on the judging panel for the Welsh, English and Scottish Veteran Awards previously and I am really looking forward to join the judging panel for this years Welsh Veteran Awards this year and to hear all about the shortlisted finalists.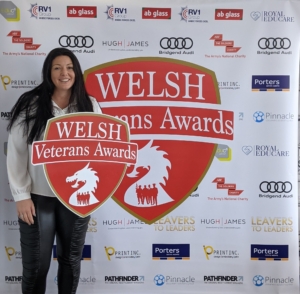 Rebecca Porter, Director at Porters Estate Agents 
I am Director of Porters Estate Agents. I'm really looking forward to meeting lots of deserving nominees and of course seeing the the goat again. Eager to be involved as very proud of what our armed services do for us on a daily basis. Most of which, we never hear of. This is a great opportunity for our former Military to showcase their fantastic achievements since leaving the Armed Forces.  I cant wait to hear all the amazing stories.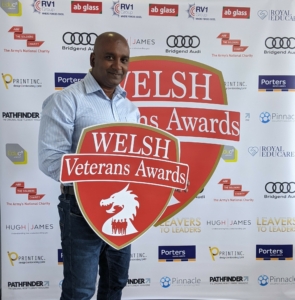 Samuel T Ready, Entrepreneur, Director and Author:
Samuel T. Reddy
 is passionate about seeing the best in leaders. He is a visionary global leader, leadership transition strategist, author, researcher and an impact entrepreneur based in Hampshire, United Kingdom. Samuel is a multi award winning member of the British Armed Forces, an International Bestselling author of the book Leavers To Leaders, which has reached an Amazon #1 bestseller in the UK, USA, Australia and Canada.
He is the CEO of 
TriAtis Global Leadership
, a UK based international training and development organisation specialising in career & leadership transition in 3 continents to keep Leaders relevant, rigorous and responsive. Samuel has taken part in various Shows and is a natural in front of the camera both as a guest and a host. One particular show recorded at University of Southampton Business School is the LOS Cast – a series of talks with business leaders on change, strategy and leadership. As an Inspirational Keynote Speaker he regularly speaks on the '
3 L.O.S of Leadership
' & the '
Leaders Operating System
'. Samuel is also the co-founder of 
TriPotential
 CIC, a social enterprise set up to help the UK government have more cognitive diversity in the military & uniformed services. As a citizen of two commonwealth countries, Samuel believes strongly in sustainable leadership, and has aligned all his books & programmes to improve youth literacy in disadvantaged countries. He is the patron of '
The Sugarcane Boy
' Book Club to help children have a book to read at home.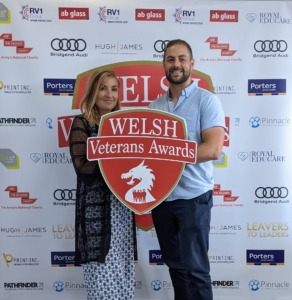 Alex Williams and Victoria Beacham  Founders at Royal Educare.
Alex oversees the business development and the recruitment department, where Victoria manages the finance, back office and company accounts. We decided to be sponsors at this year's English Veterans awards due to being a family of Military background, we understand the transition from Military life to Civvy Street can be difficult. We wanted to give recognition to those Veterans that have not only achieved and succeeded the transition but have gone on to achieve great things in their life. It's a privilege to be part of such a rewarding event.
https://veteransawards.co.uk/wp-content/uploads/2021/07/Emma-Grant-Welsh-Judging-pannel-2021.jpg
1941
1943
Sean Molino
https://veteransawards.co.uk/wp-content/uploads/2018/09/Veterans-Awards-Logo.jpg
Sean Molino
2021-07-11 13:14:48
2021-07-15 17:56:34
Meet the Judges at the Welsh Veterans Awards 2020-2021