Barry John MBE
Well done to Barry John MBE from The VC Gallery who has become our first Welsh Veterans Awards Champion sponsored by TASC Holdings Ltd after winning in two categories Lifetime Achievement and also the Community Award -Sponsored by Empower – Support for the Voluntary your own text – The below video Mr Barry John Gives Feedback after the Awards Ceremony!
Ken Hames MBE
Lets Hear from Former SAS Military Veteran The Amazing Ken Hames MBE who became our Inspiration of the Year and Overall English Veterans Awards Champion.
The Lord-Lieutenant Mrs Peaches Golding OBE, Lord-Lieutenant for Bristol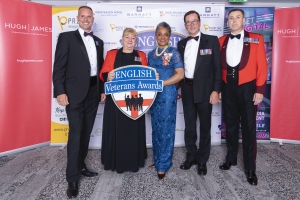 English veterans demonstrating sporting, entrepreneurial, volunteering skills and more gathered for the first annual English Veterans Awards held in Bristol. This glittering occasion recognised the determination, dedication and integrity of former service women and men across the country. The veterans showcased provide excellent examples of how the transition from military to civilian life can be a great success. The awards were established by former serviceman Sean Molino and are replicated in Wales and in Scotland. 'The concept is a terrific one – honouring these service personnel for their achievements maps a way forward for veterans. It highlights role models with the qualities that help strengthen the fabric of our society,' says Mrs Peaches Golding OBE, Lord-Lieutenant for Bristol. 'Congratulations to all the nominees and winners as well as to the many volunteers that made the evening such a success!'
Michael Barrett
Senior Business Analyst – FM Conway
FM Conway were nominated as Employer of the Year in the English Veterans Awards and subsequently awarded Bronze.
The  Awards highlight the amazing things that our Veterans are doing to help other Veterans that are perhaps less fortunate/need additional support. It shows the strength and character of our Veterans and portrays a positive image of our Veterans to external parties. I think that the Employer of the Year award is also extremely valuable as it can highlight organisations are valuing Veterans and can inspire others to follow suit and take ideas from what is being achieved elsewhere.
being nominated impacts the lives  of veterans by,   In our case (FM Conway) I believe that our recent recruitment success can be partially attributed to our nomination and subsequent award. Our Veteran workforce grew by 50% (a stat picked out shortly after the awards). I believe the impact came from the social media campaign from the awards and ourselves and the positive messaging around it has spread the word that we are actively seeking Veterans across all roles and at all levels of the business. It has certainly opened doors and we will look to keep up the momentum into 2020.
I think that at times we, as Veterans can be subject to negative press and stereotyping. We don't all have PTSD for example – but by the same token, those that have been unfortunate enough to suffer with PTSD can share positive stories and show other Veterans that there can be a bright future with the correct support in place. The awards can play a key role in the positive messaging and through the connections made help to signpost/spread awareness.
AJ Pingram 
I am currently out of work and Claiming a War pension and awaiting Amputations of both of my lower legs.
I won the 2019 volunteer of the year at the Welsh Veterans Awards for Wales for coaching Bala Hockey Team.  I volunteer because it helps my mental health after being injured.
It is so nice to see how pleased the general public are when they see that you have been nominated and even more when I won the award. It is a great way to show other veterans that they still have a use in the world after they have finished their military service.  I hope that my award showed other injured military veterans that there are still things we can do in life and inspired them to do something and not give up on life.
Zoe Critchley
Job title – Marketing & Commercial Manager, Forces Cars Direct
Forces Cars Direct and Managing Director, Steve Thornton, were nominated for 3 awards in the 2019 English Veterans Awards, and winner of the Veteran Business of the Year AwardThe awards champion the successes of veterans in life after the military, showcasing to the country that there is huge value in our Armed Forces Veterans, whether this be in employment in established organisations, smaller companies, or in their own ventures into becoming a business leader themselves. The positivity that the awards breeds is fantastic.
To be nominated means so much to veterans. It validates all the hard work they have put in and gives such a confidence boost to continue.
Unfortunately, there is still some negativity surrounding employing veterans or the situations veterans face in life after the military; the awards help to show the other side and promote the positive impact veterans are having in communities and on the economy.
Huw Richards
Managing Director Preventapest
We were Finalists in 2 categories at the Welsh Veterans Awards. To be recognised by my fellow veterans is amazing, the expectation within the forces is to be the best so to be recognised at a business awards for veterans just means I've followed through from my army days and now run a business with military values that can be seen. Any recognition is great to be honest it just means people recognise what you are doing it helps you push on and strive for more I can honestly say my whole experience of the awards before and after the main event was top notch, well run, great service, great communication and true professionalism
Shaun Canniford
Strategic Lead for Staff Mentoring and College representative for the Armed Forces Covenant.
Silver Award Holderemployer and training provider to veterans. The awards are essential in different way, holistically and pastorally as a result of the comradery, networking and being able to spend time with others "who get" the unique culture of being a veteran and the experiences each individual has gone through .In a very positive way. My colleague Dave Beresford who won the life time achievement award was thrilled to have been awarded the title!
Sandra Murphy 
Managing Director Equidiet UK
Winner of the Entrepreneur of the Year award at the English Veterans Awards.
The Awards highlight the many ways veterans can share their skills and knowledge after their service and also to provide inspiration to others who follow their dreams and aspirations.
It was a very humbling experience to hear about some of the  experiences of other nominees. It made me very proud to have been chosen as the winner of my category, however I feel everyone who had been nominated was a winner.
I don't think there are negative experiences from the awards, I feel that the awards are positive as it's always good to be recognised for the hard work and effort that veterans put onto what they do and the Veterans Awards reward that hard work.
Phil jones
Owner Swansea Outdoor Fitness
Nominated and winner of the contribution to the Welsh Fitness Industry.
The Veterans Awards  shows the good work veterans are doing, and gives veterans the confidence and belief to have a positive impact in the community.
The awards have impacted personally on me by giving me confidence to take my business to the next level.
There is a miss conception that all Military Veterans have issues with mental health, these are issues that  defiantly need to be addressed, what the awards do is break the stigma that we all need peoples pity, the awards highlight the positives and all things positive that is happening within the Veteran Community.
David Allen
Principal Consultant -Company X Consulting Limited
In 2019 Company X Consulting Limited were honoured to be nominated for Employer of the Year and Veterans Business of the Year at the English Veterans Awards.  It was fantastic to attend the event and be awarded Employer of the year and runner up for the Veterans Business of the Year. Amazed and humbled by the attendees, their life and business stories and achievements, and even more surprised to walk away with an award.
These awards provide recognition for companies going above and beyond in support of veterans. It is a small piece of recognition of their service, but more importantly the ongoing use of the skills, knowledge and experience acquired through military service. There is most definitely a "life" after military service.
Nomination is a fantastic honour in its own right. Taking home an award from the event is a fantastic moment made better by the broad group of individuals gathered to celebrate the performance of the veterans community.
I feel that the negative experiences of veterans that the Awards are attempting to overcome are that quite often there is perception that a veteran has limited or no skills of any value to business, and a perceived high risk of PTSD. Whilst one case of the latter is too many, a veteran should always been seen as an asset who brings a wide range of skills, knowledge and experience. Veterans are a relatively un-tapped source of experienced, trustworthy and effective individuals who can operate across the business spectrum delivering success and enabling businesses to realise benefits.
Terry Morley
Operation Re-Org Veterans Programme Manager
Winner of the English Veterans Community Award 2019
The Veterans Awards is truly valued within our community, it allows organisation to showcase the great work they are doing to support Veterans and the wider veterans community. It assist us to share good practice and we are able to identify who we can signpost our veterans to within the UK if we don't have the local support or networks.
I feel it impacts positively on the lives of veterans to be nominated. For me and my organisation it's given us an opportunity to market our provision and highlight to other organisations what we can do and how we can help support their organisation by working together in collaboration for the greater need of the Veteran Community. Its provided us with a bigger network and greater resource.
I feel the awards are all about working together to support all the veteran community across the UK. It gives veteran support organisations an opportunity to share good practice to be able to replicate that across the whole of the UK.
Richard Gwilliam
Job title – Co-Founder Geollect
I won the Business Leader of the year award and runner up in the entrepreneur of the year award at the English Veterans Awards.
I feel the Awards are valued within our veteran community beacuse It gives a positive message of life outside of the military. It clearly demonstrates that there are a huge amount of employees out there looking for the transferrable skill sets that veterans have and what value they bring to an organisation. There is also the hugely inspirational stories of Veterans who have set up their own businesses and have thrived. It creates a community to share stories and give support it's a fantastic set up.
The Awards give  huge confidence to any veteran, the acknowledgement that you are making a difference is the key to keeping going and striving towards new goals.
If I had to think of any negative experiences of veterans that the Awards are attempting to overcome I would say some veterans experience difficulty in transition from uniform to civvy clothing and it knock their confidence the Awards helps them believe in themselves!
Angela Windsor
Director Print Inc Embroidery and Print
Sponsor for Welsh, English & Scottish Awards
The Veteran Awards I believe is becoming such an important platform within the veteran community, allowing the recognition and well-deserved support of peers to be given on a national level. Each veteran entering the awards are deserving of such credit, their hard work not only within the Military but also in the civilian community can sometime go unheard of.  These awards really do showcase the talent, expertise and capability of our highly trained ex-service men and women, and the positive impact their skill set has on our community.
The Awards impacts on the lives of veterans nominated by giving recognition to any is always key in continued success, however I think have the kudos of peers who are also achieving great this can only have a positive image on the lives of nominated veterans.
In my opinion I feel that  the negative experiences of veterans that the Awards are attempting to overcome are, some people may think that  veterans maybe  unable to reintegrate into society, or sadly that there are limited opportunities for veterans.  These awards show that if you have a positive approach and attitude then you really are able to succeed in or out of the Military.
Lisa Rawlings
Regional Armed Forces Covenant Liaison Officer
Nominated for the Community Award and nominated Caerphilly County Borough Council for the Employer of the Year
These awards epitomises everything that is great about the Veteran Community. It is wonderful to see the achievement of those transitioning to civilian life which can come with their own set of challenges. I was both in awe and inspired by everyone who was nominated. Championing the success that can come after a military career gives hope to service leavers and demonstrates to veterans what can be achieved. Collaboration is key and together we can forge a successful career after military life and support those who need that extra help.
The Veterans Awards enables recognition for those who are going above and beyond and a wonderful sense of accomplishment. To be nominated is both a humbling and rewarding experience. Achieving Silver was the icing on the cake and reminded others of the fundraising to build a memorial to a dear friend who was killed on deliberate operations in Afghanistan 2008. I am very proud of the work that the veteran community has achieved – and being able to acknowledge best practice and replicate elsewhere is fundamental in eradicating the postcode lottery out there.
In my first job after leaving the services I was told that they normally don't like to employ ex-military but 'they would give it a go'. These Awards highlights to Employers that Veterans are an asset to any organisation and community. We come with a wealth of experience, strong work ethic and team ethos. Employing veterans is good for business and society!
Mr Fred Hatton MBE
Employer Advisor Dept for Work & Pensions
I am a veteran having served in the Royal Navy for 35 years. I am now a civil servant of 21 years standing in the Dept for Work & Pensions. I was nominated for the Wales Veterans Award 2019 in the category of Lifetime Achievement Award and received a Bronze placing. I deal with veterans in my second career and am now more aware of their place and sometimes difficulties in adapting post leaving the Service.
It is a testament to the value placed on veterans that, from Central Government downwards, so much is invested in help and advice that is available to all veterans to adapt to a new life and hopefully a second career. Due to the necessities of service personnel having to leave at such a relatively early age, it is vital that the Country and community at large do not forget their contributions during their uniformed years. The awards are yet further steps towards displaying those values, not just to those veterans nominated but to all veterans as well as all citizens.
The fact that someone has thought to nominate a colleague is a major boost to the wellbeing and ego of someone nominated, no matter that the nominee may not be placed. By being placed, it provides opportunities to spread the word that these awards exist and this gives more thought and further opportunities to seek nominees for future years.
There are surely a great many veterans who feel cast out from their service life and forgotten. There are surely a great many veterans who want a second career or at least to be able to contribute and blend in to post service life and help others less fortunate than themselves. I am confident that, from Government downwards, this is a work in progress and that this will continue. I feel confident that the work of the people behind the Veterans Awards is yet another huge step in the right direction in overcoming negative aspects and experiences of those less fortunate when becoming a veteran.