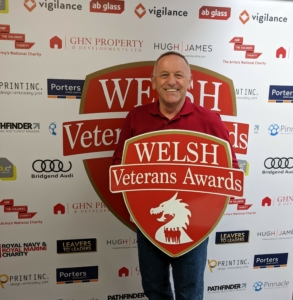 Alan Brayley  VR DL, Deputy Lord Lieutenant for West Glamorgan.
Alan Brayley Started his career at 16 as an apprentice glass processor at a large Glass processing works. Moving on to take a managerial role.
Alan has worked from the shop floor through to senior management gaining knowledge and understanding of manufacturing processes and the wider business aspects.
In 1991, Alan started his own company manufacturing hermetically sealed double glazed glass units. Following this, he expanded the business and started manufacturing and installing commercial and domestic aluminium windows, doors, curtain walling and other related products and services. Building it into a multimillion-pound turnover business.
Living in Southwest Wales, Alan is acknowledged as one of the region's leading businessmen. He was appointed Chair of the Swansea West Business Park forum and whilst President of the Swansea Bay Business Club, he was instrumental in growing it to become the largest networking Business club in the region. Alan remains as a board member.
He has won numerous business awards and has also been recognised for his personal business achievements.
He is a Deputy Lord Lieutenant for West Glamorgan and is a High Sherriff in Nomination for 2024 / 2025.
Swansea University recently awarded him affiliate status in recognition of his significant contribution to the University. He sits on the Bank of England's West Wales Business Panel, works as a business mentor with Careers Wales, working with primary and secondary schools to enhance entrepreneurial and business skills, was elected Chair of Governors at a local primary school and is currently a Governor at a local Secondary school.
Alan is a veteran reservist having served 20 years as an infantry soldier and spends much of his time supporting other veterans and raising money for ABF The Soldiers Charity.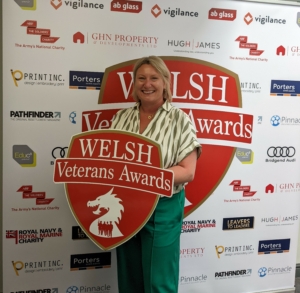 Kathryn Wing,

Director of Quality and Compliance Director at the Educ8 Training Group
Kathryn Wing is the Director of Quality and Compliance at the Educ8 Training Group, who offer a range of fully-funded Apprenticeship Programmes across Wales.  Educ8 are proud sponsors of the Veteran Owned Business Award, a fantastic category showcasing a range of inspirational businesses and passionate business owners.
"I have not sat on this judging panel before but I feel honoured to have been selected to represent the Educ8 Group.  The contribution veterans make to the Welsh economy should not be under-estimated.  The nominations have been of an exceptionally high standard and the winners deserve to highlighted as a group, determined to give something back to their community"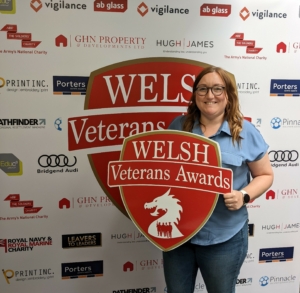 Leah (Compliance & HR Assistant) Royal Educare 
Compliance and HR administrator at Royal Educare, I have heard on so many occasions about the Veteran awards that we have been attending over the years and was absolutely thrilled to invited to join the judging panel this year. Having had former Veterans in my own family I recognise the struggles they can face so to hear the inspiring and positive stories of the achievements of veterans over the years I'm very excited to recognise their hard work.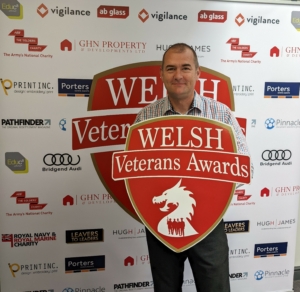 Peter Davies  – Regional Director Wales, ABF The Soldiers' Charity
His role encompasses inter alia; representing the Charity in Wales; engaging a wide range of audiences both military and civilian on the work of the Charity to encourage support to regional fundraising, continual development of our volunteer fundraising, initiating and delivery of regional fundraising events.
ABF The Soldiers' Charity is the Army's national charity and provides support to soldiers, former soldiers, and their families, for life – whatever the need is. It supports the Army family of all generations, not just those affected by recent conflict. Working in support of corps and regimental benevolent charities, The Soldiers' Charity relies heavily on community fundraisers, volunteers and benefactors to ensure that those in need get the assistance they deserve.
Peter comes from a family with a long Army tradition (fifth generation), and, as a long-serving former British soldier and a proud Welshman, he fully appreciates the work of the Welsh Veterans Awards and whose aims are very close to his heart. Peter was awarded the Meritorious Service Medal (MSM) in the 2016 Queen's Birthday Honours military list, prior to ending his 23 years regular service in the British Army finishing his time in the British Army as a Warrant Officer Class One in the Royal Logistics Corps. Married to Nicola for 25 years with two children, Keiran (25) and Charley (16).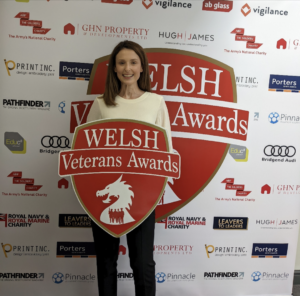 Nia-Wyn Evans  – Senior Associate Solicitor
I am a specialist military solicitor at Hugh James, based at our London office. I work within the military team representing serving and former military personnel.
Hugh James have proudly sponsored the Veteran Awards since its launch in 2019. I have been fortunate to be invited as a panel member for the awards since its launch and continue to be taken back by the incredible nominations submitted.
I look forward to further celebrating the success and contributions of the military community at the Welsh Veterans Awards towards the end of this month.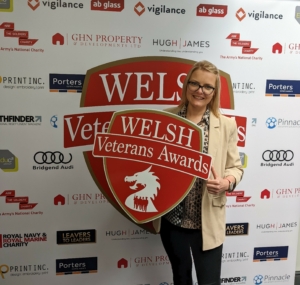 Annie Martin, Group Marketing Manager at Pinnacle Complete Office Solutions
 Having worked at Pinnacle for over 5 years, I am honoured to of had the opportunity to be involved with many serving and ex-Military personnel, from charity events, training and being awarded both the Bronze and Silver Covenant status. Having attended the Veterans Awards and listened to the fantastic achievements of our former Military, I am privileged to form part of this year's upcoming judging panel and look forward to hearing the fantastic stories and accomplishments of those involved.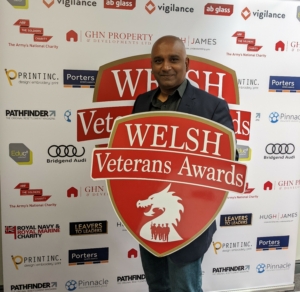 Samuel T Ready, Entrepreneur, Director and Author:
Samuel T. Reddy
 is passionate about seeing the best in leaders. He is a visionary global leader, leadership transition strategist, author, researcher and an impact entrepreneur based in Hampshire, United Kingdom. Samuel is a multi award winning member of the British Armed Forces, an International Bestselling author of the book Leavers To Leaders, which has reached an Amazon #1 bestseller in the UK, USA, Australia and Canada.
He is the CEO of 
TriAtis Global Leadership
, a UK based international training and development organisation specialising in career & leadership transition in 3 continents to keep Leaders relevant, rigorous and responsive. Samuel has taken part in various Shows and is a natural in front of the camera both as a guest and a host. One particular show recorded at University of Southampton Business School is the LOS Cast – a series of talks with business leaders on change, strategy and leadership. As an Inspirational Keynote Speaker he regularly speaks on the '
3 L.O.S of Leadership
' & the '
Leaders Operating System
'. Samuel is also the co-founder of 
TriPotential
 CIC, a social enterprise set up to help the UK government have more cognitive diversity in the military & uniformed services. As a citizen of two commonwealth countries, Samuel believes strongly in sustainable leadership, and has aligned all his books & programmes to improve youth literacy in disadvantaged countries. He is the patron of '
The Sugarcane Boy
' Book Club to help children have a book to read at home.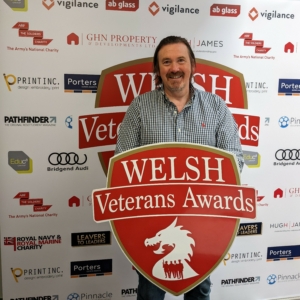 Barry John MBE. The VC Gallery CEO and Graffiti artist.
I am the founder of the Mental heath charity The VC Gallery situated in Pembrokeshire.
As a former winner of the Welsh Veterans Awards I am very proud to be on the judging panel for this years event. The Veterans awards shows our nation that veterans go on to do some amazing things in all aspects of trade, commerce and charitable endeavours that bring so much back to the Armed forces community in Wales.
I served for 24 years in the Royal Regiment of Wales and later in the Royal Welsh, whilst serving, I studied Mental health in the Military and was also a war artist that had exhibitions around Europe and Asia. After leaving the Forces I set up a charity looking at art engagement and breaking isolation in the community that has gone on to become a big project in West Wales.
As a big supporter of the Welsh Veterans Awards I am looking forward seeing some of the amazing initiatives active and making a difference in Wales.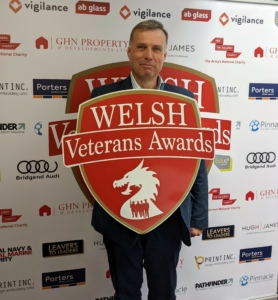 Colonel David Hammond – Head of engagement RFCA Wales
David is a former regular Army Commanding Officer.
Since leaving the Army in 2007 he has operated at board level in the overseas security and sustainable energy sectors, where amongst other things, he has raised funding for a broad portfolio of overseas energy-related projects, as well as overseeing Intellectual Property Rights development programmes and business start-ups.  Currently, in the UK he is the head of engagement for the Reserve Forces' and Cadets'  Association for Wales.
Away from work he has been actively involved within the voluntary sector. He was Commandant of the Dyfed and Glamorgan Army Cadet Force from 2012-2015 and Colonel Cadets for Wales from 2015 to 2019. He is the chair of trustees for the veterans charity Valley Veterans, based in the Rhondda; is chair of the business advisory group to the Council for Wales of Voluntary Youth Services (CWVYS); is Chair of the Army Cadets Charitable Trust (ACCT) Cymru/Wales, and is a trustee of the Millennium Stadium Charitable Trust (MSTC).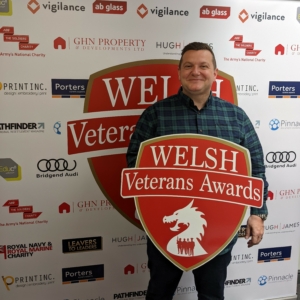 Christopher Jenkins – General Manager for Bridgend Audi, part of the Sinclair Group
I am the General Manager for Bridgend Audi, part of the Sinclair Group. I have been at Bridgend Audi for some 12 years now having previously working in the banking sector. I have three children and live in Cowbridge.
We service, maintain and retail all tyres of Audi's from the Audi A1 to the new all electric Audi Etron GTRS. Bridgend Audi was recognised as the Number 1 Approved Centre in the UK in 2021 and consistently comes in the top 10 for the industry recognised Q Power. We take extreme pride in our position within the community and see supporting the Veteran's Awards as a great union for us.
I was first involved with the Veterans Awards in 2020 have been truly inspired by the outstanding efforts and contributions of everyone involved. To see some of the endeavours and accomplishments of the ex-military is remarkable. I am really excited to be participating in the judging panel this year and meeting and learning about the 2022 finalists.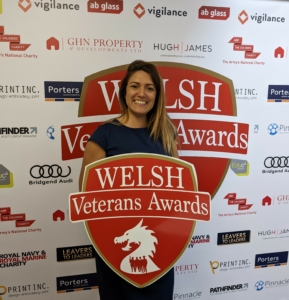 Angela Windsor, Founder of Print Inc Embroidery & Print and Tarw Sports
I am the MD and Founder of Print Inc Embroidery & Print and Tarw Sports, based in Wales.  Print Inc are specialists within the embroidery industry and supply branded clothing, workwear and uniform to companies and the Military across the UK and Ireland.  Tarw Sports specialises within the sports industry and supplies bespoke sports kit such as Rugby/ Football/ Netball to Triathlon kits to various teams and clubs from grass roots to professional levels in the community and Military.
Having worked and been personally linked to the Military for several years, I am extremely passionate about supporting the welfare of our veterans and  their families in the community.  As a company and individually we actively participate in fund raising events and awareness raising, this year and Abseil with the ABF Solders Charity.  I also founded the Shoe Box Appeal for Veterans and their families, which we will run again this Christmas after a very successful first year launch.
The Veteran Awards are such an important event in our annual calendar, and recognising the inspirational work and efforts of our Veterans who have gone above and beyond is such a privilege to be a part of.
https://veteransawards.co.uk/wp-content/uploads/2022/06/PXL_20220614_133415065-1-scaled.jpg
1920
2560
Sean Molino
https://veteransawards.co.uk/wp-content/uploads/2018/09/Veterans-Awards-Logo.jpg
Sean Molino
2022-06-20 12:42:19
2022-06-28 12:06:57
Meet the Judges at the Welsh Veterans Awards 2022