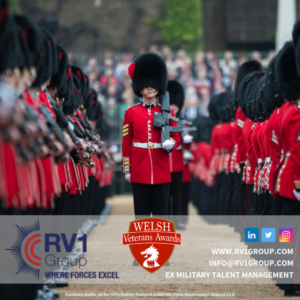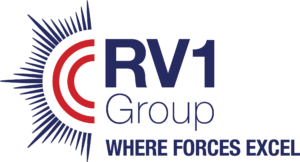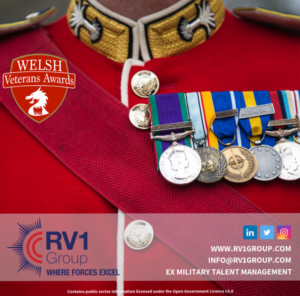 All our Awards team would like to welcome RV1 Group as Category sponsors at this years Welsh Veterans Awards. We caught up with Penny Read Director of Operations  from RV1  Group to find out a little more about the services they offer and why they wanted to support the Veterans Awards!
Robert Wilson was third generation into the Household Division who created RV1 Group from a struggle found in transitioning from the Service and the lack of real time tools available within mainstream resettlement.
We work exclusively with those leaving the Armed Forces and try our very best to map employment prospects within corporate business. Across a number of levels, from Ex Military Internship programmes to live recruitment/talent needs, we can work with your organisation to inject impressive Ex Military talent into your workforce.
There is a huge wealth of people leaving the Armed Forces (over 17,000 each year) and many struggle with the end of Service transition into a new and sometimes daunting civilian chapter. The benefits of such a presence within your business can be hugely positive with core values of integrity, selfless commitment and loyalty at the very forefront of the Ex-Military mind-set.
Our primary focus is working with Service leavers within their final 3/4 months with an aim to utilise resettlement 'downtime' by placing them into customised Ex Military Internship programmes or work placements. This on average is 4 weeks offering a very generalist white-collar insight into a business. In our view, there is no substitute for 'real time' experience that will hands down beat the usual 'tick-box resettlement favourites such as 'CV clinics' or 'Careers workshops', etc. Such an opportunity can trigger all kinds of prospects and can offer a solid talent/recruitment pool for any organisation. Furthermore, it offers an invaluable transitional experience for the Service leaver, a taste of real business in an unfamiliar world. This 'skill bridge' method is incredibly effective in the USA and we are the only agency in the UK hitting this kind of angle. Most of our Internships are unpaid as the Service leaver is still within the HM Forces payroll until their exit date. We work with a number of businesses who generally work from quarterly intakes of approx. 20 Service leavers on an Intern programme (most provide lunch and travel
Outside of the work placement or Internship world, we can work on live recruitment requirements and also have a platform (Ex Direct) whereby an organisation can capture Ex Military direct self-managing their own vacancies.
We look forward to attending the Awards in Cardiff and are delighted to be supporting and involved In helping to promote veterans across the UK!
Find out more about RV1 Group Here – http://www.rv1group.com/
https://veteransawards.co.uk/wp-content/uploads/2020/04/Screenshot_20200420-225153-1.png
2047
2048
Sean Molino
https://veteransawards.co.uk/wp-content/uploads/2018/09/Veterans-Awards-Logo.jpg
Sean Molino
2020-04-21 09:51:50
2020-04-21 12:52:20
RV1 Group to Sponsor the Welsh Veterans Awards