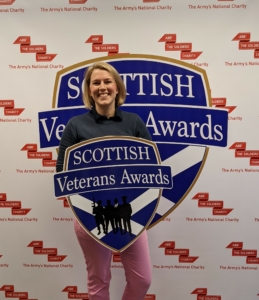 Emma Davies,  Director of Joint Force Alba
Emma is the director for Joint Force Alba, the only Scottish ex-military recruitment consultancy. She is a Veteran herself, having served for 13 years in the British Army, working in tri-service and multi-national environments in Germany, Iraq, Afghanistan and the USA. Alongside that, she developed a career in HR and recruitment in Scottish businesses, focusing on SMEs. She gained her Chartered membership of the CIPD in 2013 having had to pause her studies whilst serving in Afghanistan. She's an ambassador for X-Forces Enterprise and a board member for military charity Lothian's Veterans centre as well as being a wife to a fellow Army Veteran and mum to 2 young boys.
Samuel T Ready, Entrepreneur, Director and Author:
Samuel T. Reddy
 is passionate about seeing the best in leaders. He is a visionary global leader, leadership transition strategist, author, researcher and an impact entrepreneur based in Hampshire, United Kingdom. Samuel is a multi award winning member of the British Armed Forces, an International Bestselling author of the book Leavers To Leaders, which has reached an Amazon #1 bestseller in the UK, USA, Australia and Canada.
He is the CEO of 
TriAtis Global Leadership
, a UK based international training and development organisation specialising in career & leadership transition in 3 continents to keep Leaders relevant, rigorous and responsive. Samuel has taken part in various Shows and is a natural in front of the camera both as a guest and a host. One particular show recorded at University of Southampton Business School is the LOS Cast – a series of talks with business leaders on change, strategy and leadership. As an Inspirational Keynote Speaker he regularly speaks on the '
3 L.O.S of Leadership
' & the '
Leaders Operating System
'. Samuel is also the co-founder of 
TriPotential
 CIC, a social enterprise set up to help the UK government have more cognitive diversity in the military & uniformed services. As a citizen of two commonwealth countries, Samuel believes strongly in sustainable leadership, and has aligned all his books & programmes to improve youth literacy in disadvantaged countries. He is the patron of '
The Sugarcane Boy
' Book Club to help children have a book to read at home.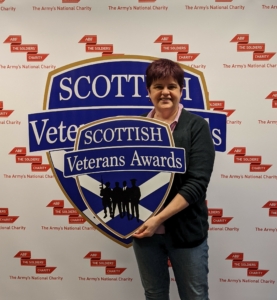 Michelle McKearnon, Head of Engagement- Highland Reserve Forces and Cadets Association
Michelle is the Head of Engagement at Highland Reserves Forces and Cadets Association. She leads an engagement and communications team who work across the North of Scotland to promote the benefits of employing Reservists and Veterans to both the business and the wider communities.
Previously she was the Chief Executive of Forth Valley Chamber of Commerce, the first Chamber in the UK to win an MoD Gold award for being a supportive employer, and ran her own business for 6 years. She is a former member of the Institute of Directors and a member of the Association of Scottish Business Women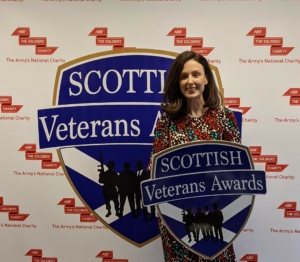 Nia-Wyn Evans  – Solicitor
I am a solicitor at Hugh James, now based at our London office. I work within the military team representing military and ex-military servicemen and women.
Whilst speaking with military and ex-military personnel on a daily basis I am all too familiar with the difficulties veterans can face when leaving service.  I wanted to join the judging panel for the Veteran Awards to celebrate those who have made a successful transition from military to civilian life, whilst also assisting veterans who have faced difficulties when returning to civilian life as part of my role as a solicitor.
I have been fortunate to sit on the judging panel for these awards nationally since 2019. It is inspiring to learn of the positive impact that veterans continue to have on the wider community after leaving service. I am grateful for the invite to sit on the judging panel for Scotland this year and look forward to the awards in April.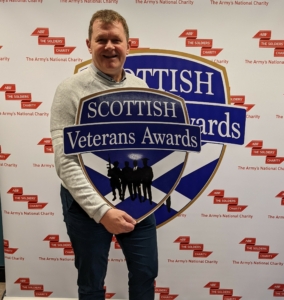 John Gillie – Briefing & Liaison Officer ABF The Soldiers' Charity – SCOTLAND
The role encompasses briefing a wide range of audiences both military and civilian on the work of the Charity to encourage support to regional fundraising, provision of fundraising support to the Regional Office and Events, including organising events, establishing and maintaining key relationships with Army units both Regular and Reserve and continual development of our volunteer fundraising.
John completed a 39 year exemplary career in the Army in 2020. He feels so privileged and honoured working as the BLO(Sc). As have many he has found the last 2 years extremely challenging but confident 2022 will bring a bit of light onto all within the service community. At last he is looking forward to getting out & about in Scotland & taking on the many challenges the role will bring. He hopes he can "give a little back" to a service which has provided him with so much. 
He is married to his wife of 34 years Sherrilyn with 3 sons, Liam (31), Danny (29) &  Ewen (24) all currently building their own careers. As a close family who enjoy socialising together & passionate about living life to the full.
 "I was very pleased to be asked to be a judging panel member for the second time. As a military veteran myself it makes me so proud & emotional to read the stories of what our veterans are doing out there for their communities. Once again, I'll look forward to celebrating the success of our Scottish Military Veteran Community in April along with those companies that support us"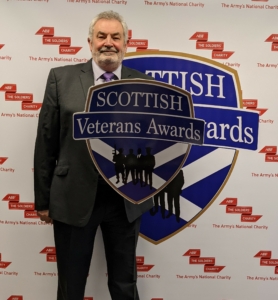 Colin Vooght, Head of Engagement- Lowland Reserve Forces and Cadets Association
Colin Vooght joined the Army as a Junior Tradesman and left, after more than 40 years of service, as a commissioned officer. On 'retiring' he established a Health and Safety Consultancy and stepped in as maternity cover for the Regional SaBRE Campaign Director at Lowland Reserve Forces' and Cadets' Association. That one year contract became five, after which he was promoted into the role of Head of Engagement within the association and now has responsibility for the organisation's engagement with employers and the wider community plus a communications department.
He is married to Maggie and they have two grown up daughters, one a radiographer, the other a phycologist. When not working, Colin is a Rotarian.
https://veteransawards.co.uk/wp-content/uploads/2022/03/IMG-20220316-WA0009-2.jpg
1200
1600
Sean Molino
https://veteransawards.co.uk/wp-content/uploads/2018/09/Veterans-Awards-Logo.jpg
Sean Molino
2022-03-17 14:59:44
2022-03-22 08:43:09
Meet the Judges at the Scottish Veterans Awards 2022