What an amazing 2019 We've had celebrating the success of our Military Veteran community in England and Wales, so many inspiring stories , people and amazing businesses that have supported us!
Thank you to everyone who has supported our Awards and of course all those who were nominated and attended our Award Ceremonies!
Remember the Veterans Awards are here to spread the positive messages from our Veteran community and if you need something circulated that will benefit us please do send it in to our team!
Here's an Introduction to our Two Amazing Veterans Awards Champions –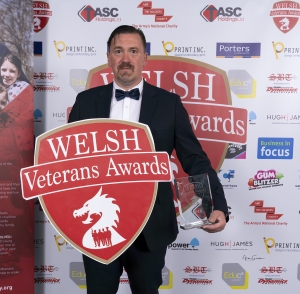 Well done to Barry John MBE from The VC Gallery who has become out first Welsh Veterans Awards Champion sponsored by TASC Holdings Ltd!
"Just being at the very first Welsh Veterans awards was very special, to be nominated by my peers and the public in two categories even more special but then to win both and also become the Welsh Veterans champion on the evening was such an honour.
All nominees have done so much in their respective areas of Wales for the community and especially Veterans and it was because of this recognition the awards are unique.
I would like to thank everyone who is making a difference in Wales, the staff at the VC Gallery and everyone that believed in my vision, to Sean and his team for showing veterans in a positive light and to everyone who was nominated in all the categories in what was the first ever Welsh Veterans Awards and I know it will become a big event in the calendar for many years to come.
Thank you"
Barry John MBE
The VC Gallery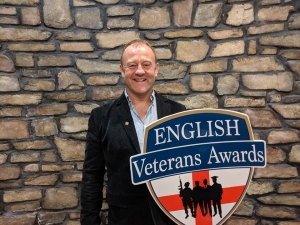 We caught up with the amazing Ken Hames MBE, former SAS Officer who became our English Veterans Awards Inspiration of the year (Sponsored by Ridge steel) and overall English Veterans Awards Champion (Sponsored by Barratt Homes) here's what he had to say-
I would like to say what an honour it is to receive the award of Veteran's Award Champion. It came as an unexpected surprise to be nominated and an even greater one to win my category and the overall award. I apologise for my absence which was unavoidable but hope that everybody enjoyed the spectacle.
In a real sense this and the other awards are for all veterans, who are out there everyday helping those that are less fortunate, or who are suffering from mental health challenges. We also need to be mindful of those working in difficult circumstances with little recognition. They all deserve our support.
A lot has been achieved but there is still much to do. I encourage everybody to try and work together and share the burden while seeking new ways to help our boys and girls who do not necessarily get as much assistance or publicity as they should do.
A big shout out to the Veterans Awards Scheme that has gone to enormous lengths to promote and publicise the hard work and dedication of all veterans.
Thank you
Kenneth Hames MBE
English Veteran's Award Champion
https://veteransawards.co.uk/wp-content/uploads/2019/10/MJG08948.jpg
4000
4080
Sean Molino
https://veteransawards.co.uk/wp-content/uploads/2018/09/Veterans-Awards-Logo.jpg
Sean Molino
2019-10-04 08:12:13
2019-10-04 08:13:07
Welcome to our Welsh & English Veterans Awards Champions